Whether you have a bee problem or if you are interested in bees or supplies, or would simply like some "local honey" we're happy to help and talk bees. However, we are in the field working bees more than we are in the office, so we may not always be able to answer the phone during typical "business hours". Please leave a brief message if we do not answer and someone will return your call as soon as possible.
Thank you for understanding.
Where are we located? Our main yard is in the Somerset area, about 30 minutes southwest of downtown San Antonio. See the map below for the general location. Our insurance frowns on us posting our address online for obvious reasons. It is not always a good idea to visit a bee farm unannounced without protective gear. So, please contact us to make an appointment time on one of our Scheduled Bee Pick Up Dates.
We are now taking orders for Spring 2022 Nucs and Bee Hives
Location: San Antonio, Texas area - near Somerset 78069
Available dates for picking up bees & supplies - same day classes are available
April 9th, 10th, and 16th
By placing an order you are acknowledging and agreeing to the terms on the Ordering Bees Agreement page
Notice: Beekeeping supplies are limited at this time due to COVID-19. Please know that anything ordered from our beekeeping supply pages are subject to back-order and ALL orders are local pick up only - no shipping.
We Are Here - Click to enlarge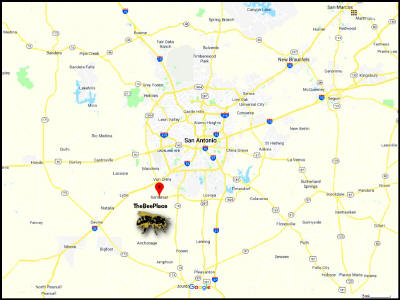 Contact us by phone at 210.289.0583 or e-mail us here:
beekeeper@thebeeplace.com